The sun never just seems to set on our Splendor of the Sunset dress as the reviews continue rolling in for the pleated, maxi design. Simply put, Chicwish shoppers love wearing it. This dress is truly a multi-season beauty whether you're dressing up for extra special occasions or slipping into it for a no-reason gathering where the "the theme is 'Wear something you haven't worn because of quarantine.' That was a real gem of a comment that we found in the Chicwish reviews. Thank you, Lauren.

Check out the Splendor of the Sunset dress in all its… splendor.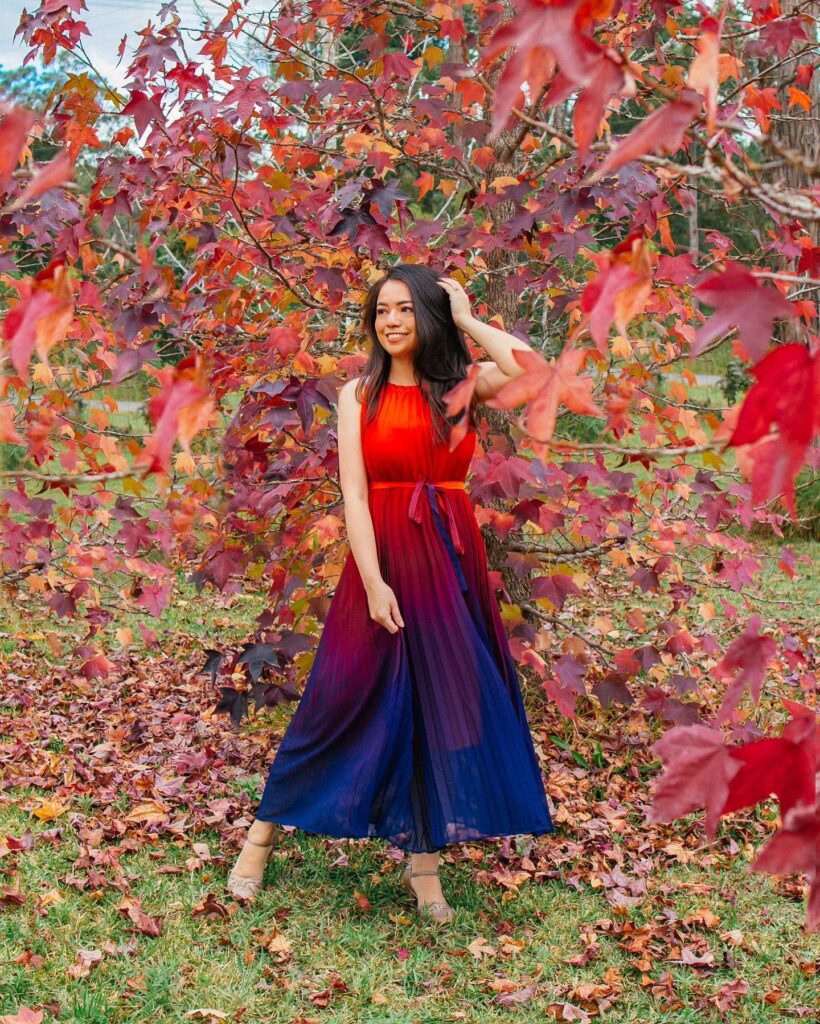 This particular dress stands apart from the typical sleeveless, pleated design because of its gradient print that mimics a peaceful, breathtaking sunset. The bold colors make it appropriate for spring and summer while the length and color transition into a deep blue makes it a contender for your fall wardrobe, too.
According to Chicwish reviews, you can wear the Splendor of Sunset dress for…
Weddings
"This dress is absolutely stunning! It is nice and flowy. Beautiful colors for the fall–I can't wait to wear it for my cousin's wedding."
—Catie, Chicwish customer
Pre-Weddings?!
"I wore this dress for my pre-wedding photo session – the colours are absolutely amazing, it is a very unique dress that will brighten up any pictures taken. I got many compliments whilst wearing it, and so far after washing it, the colour hasn't faded a bit. I absolutely love it, thank you Chicwish ♥"

—Eva, Chicwish customer
Birthdays
"Bought this for a 32nd birthday photoshoot! Absolutely love it! The colors are beautiful! It's well made and the fabric so flowy and soft!"
—Meg, Chicwish customer
Putting IRL sunsets to shame
"There was a time when a friend told me I was more beautiful than Iowa's sunset. When I wore this dress, it's how I felt."
—Patience, Chicwish customer

Themed Parties
"I was eyeing this dress over the summer and needed one for our upcoming Kentucky Derby party. The colors are even more beautiful in person! So comfortable to wear even on a hot day! It went perfectly with my hat. If you are on the fence about buying, go ahead and get it! Can be dressed up or down. It does run larger…I went with the S/M even though I'm a little bustier in the chest. Love it!"
—Lauren, Chicwish customer
And really? Anywhere you're cool with people stopping and staring!
"This dress is a dream! In the Netherlands, people really dress simple so when I wear Chicwish clothes people think I don't live here hahaha.
The way it flows when walking is breathtaking and I get a lot of compliments! True to size and length."
—Joyce, Chicwish customer
The majority of Chicwish reviews also reflect that…
The dress is true to size, looks and feels like good quality, and was ultimately worth the price. We challenge you to put our products and these reviews to the test to see for yourself how great the Splendor of Sunset truly is. When you do, don't forget to actually let us know all about your experience in the reviews.

Feeling the sunset dress? Check out even more reviews and snag it directly from Chicwish.com for only $70!