Looking for Chicwish reviews? We are too! We care a lot about what you think of our clothing, customer service, and your overall shopping experience. We also scour the internet just like you do, checking out what you have to say about the brand. We want you to love your picks from us! When you don't love them, we want to rectify that. When you do adore your stuff, of course, we want to celebrate with you! Consider this series our love letter to you wonderful supporters as we continuously work to improve your experience.
YouTuber Lizzie In Lace* stole our hearts with her fun, thorough Chicwish review hauls from summer 2021. Florals seemingly play a major role in Lizzie's self-described "delightfully feminine" and "fairytale" aesthetic. So does the color pink, anything with ruffles, and lace if we let her channel name tell it. Everything is very Chicwish-esque so she most certainly had us at "hello." We dropped by her channel for the review but certainly stayed for her put-together ensembles and endearing personality.
So, let's get into just a few fun floral looks from Lizzie's most recent Chicwish reviews. First up, our Lacey Edge Floral Dress.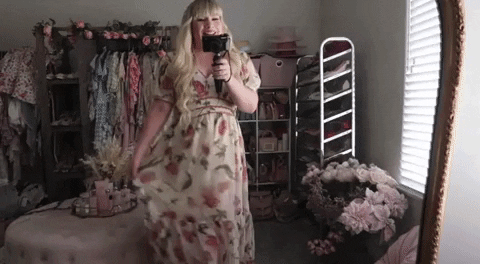 "This one has a really beautiful waistline, there's a button detail up the front and a nice flattering V-neck," Lizzie dishes on the Lacey Edge Floral Dress. "The fabric is just so light and beautiful and has a nice, airy feel about it. Even though this is more of a summer dress because it's really lightweight, I think that it would also work really well for fall just because of the colors. I can see it paired with some boots and a hat…"

Chicwish shopper Thaissa seemingly agrees with Lizzie on how beautiful this dress is. "100% Cottagecore," Thaissa shares in a Chicwish review on the site. "The pink details, the buttons, the flower pattern, every single detail of this dress makes it looks romantic. It's beautiful. I love."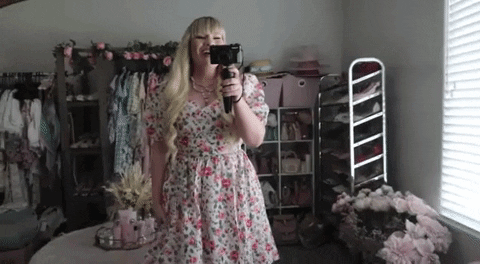 "The print is so pretty. It almost reminds me of Alice In Wonderland, like the red roses," Lizzie giggles out. It's also worth it to say that little Alice would have looked even more enchanting had she adorned this floral number. "It has these really pretty puff sleeves and I have been loving the puff sleeve trend because I just love puff sleeves. I think they're so feminine and beautiful. I just love that all of my dress dreams are coming true right now." It's time the world understood that you simply can't go wrong with a floral print, sweetheart neckline, and puffy sleeves. Every time you wear it, prepare your heart for true IRL princess slayage.
But of all Lizzie's Chicwish reviews, we truly believe no other design had her gushing harder than this Floral Kimono Dress.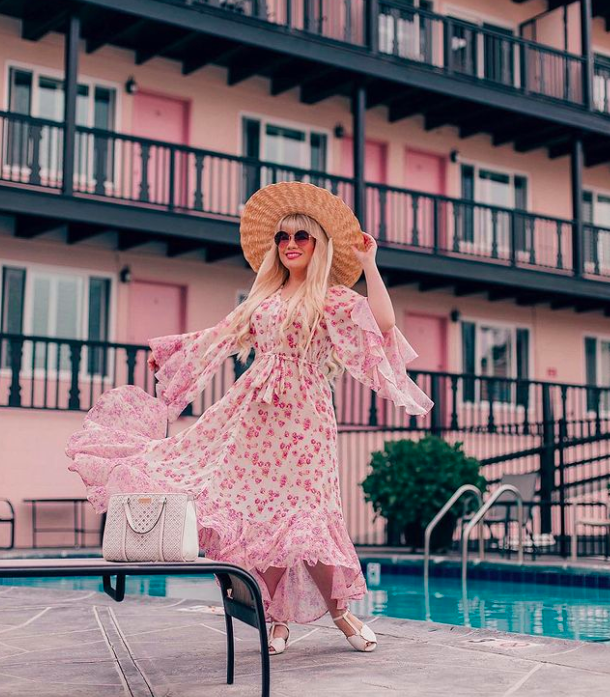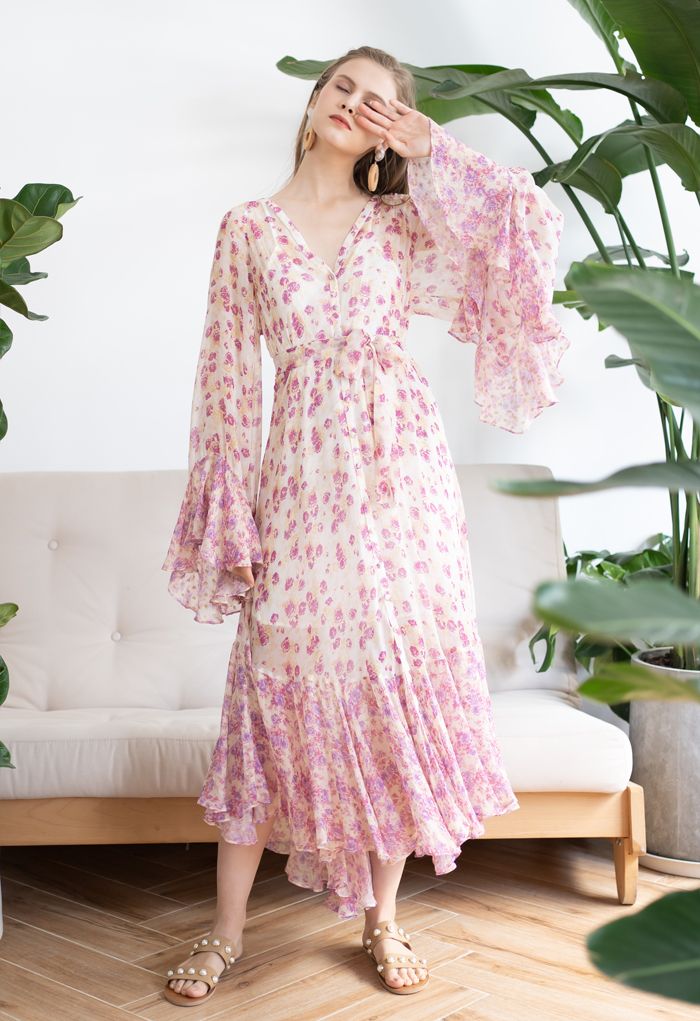 Ruffles, florals, and lace galore! Lizzie has a spottable type and impeccable taste. The cascading ruffled bell sleeves elevate this from a traditional floral dress to a true statement-making design. "I kid you not, I have worn it so many times since I got it," she says.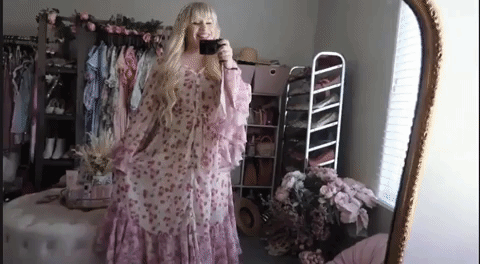 "It washes really well and it's just perfect. It's so lightweight and floaty. It's perfect for a vacation or just wearing around the house. It's very, very comfortable." Comfort and beauty? Well, what an undeniably dynamic duo!
We also find it exceptionally important to brag about how many Chicwish shoppers look amazing in this dress. Proof: Review photos.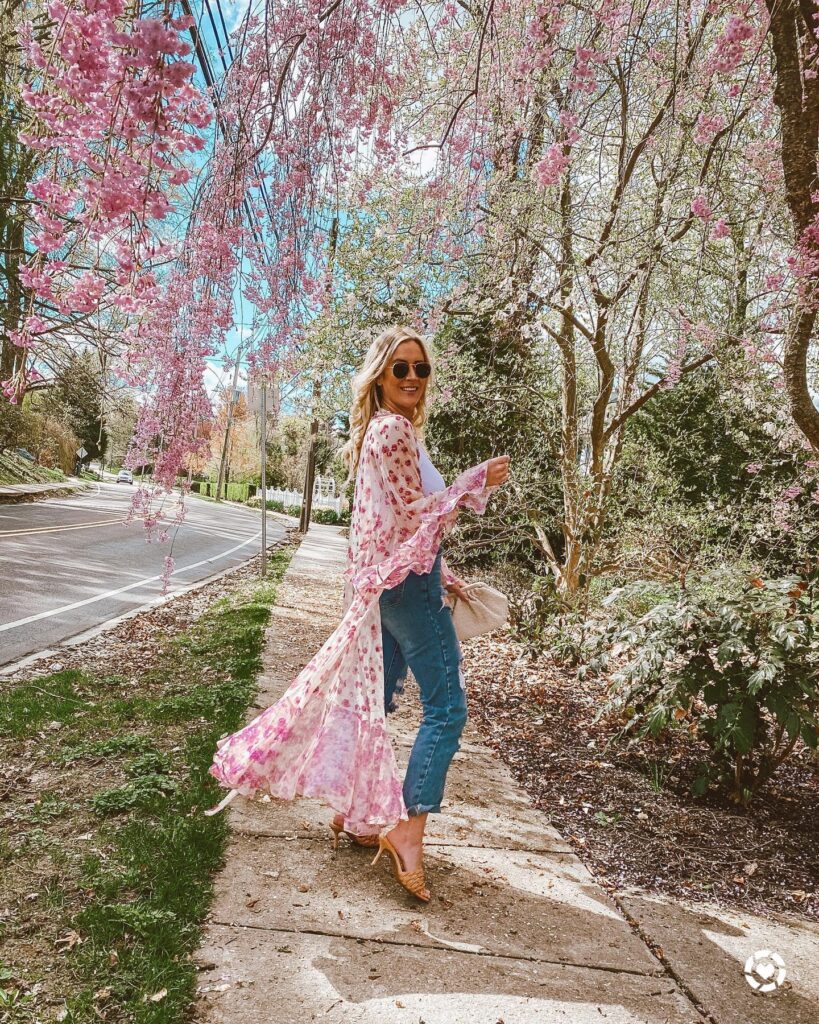 These review photos say it all. The dress is versatile in terms of where you can wear it and the way you wear it. With a belt and without. Sneakers, this day. Sandals, that day. Swimsuit cover-up to bring flowers to the beach. Lightweight layer over a top and jeans.

Be sure to catch Lizzie In Lace's full Chicwish reviews here and here. Also, shop more of our bestselling floral dresses for summer's end and fall!
*For full disclosure, Lizzie In Lace is a former Chicwish partner.